SFX
Desktop EDM Drilling Machine 0.3-3.0mm Small and Deep Hole Punching Machine,Desktop EDM Drilling Machine,DK-908 EDM Perforator, Metal Mould Puncher
Desktop EDM Drilling Machine 0.3-3.0mm Small and Deep Hole Punching Machine, DK-908 EDM Perforator, Metal Mould Puncher
PrThe processing diameter of the hole is ∅0.3-∅3mm; Hole Depth and Diameter ratio: 300:1.Processing Speed: 20-60mm/min. It can penetrate from slope, camber or any shape surface directly. X and Y axes are equipped with a raster digital display system with 0.005mm resolution. DK-908 EDM drilling machine has a water pump observation window to make it easier to observe and adjust pump pressure. The machine can also be used to move drill bits and taps that are broken in the workpiece without damaging the original hole or threads.
Advantages
★

The DK-908 EDM Drilling Machine uses a thin metal copper tube

(called electrode wire) moving up and down vertically to erode metal by spark discharge.

★

It is suitable for processing micro holes above Φ0.3mm and ultra-thick work pieces with a thickness of 300mm or less.

★EDM Drilling Machine can process various conductive materials such as stainless steel, hardened steel, hard alloy, copper and aluminium, etc.
★The Z-axis has a maximum stroke of 380mm and can clamp a 500mm long electrode at a time, reducing the number of replacements and saving time.
★Z-axis Hybrid stepping motor, electric lifting.
★Integrated design of motor and rotating head, with tungsten steel wear plate and multiple waterproof structures. It is connected to the chuck using a tapered sleeve to ensure the concentricity of the chuck rotation.
★The spindle lifting is controlled by a stepper motor to achieve efficient and stable processing.
★The spindle lifting and secondary lifting adopt a linear guide, which can better ensure the processing accuracy.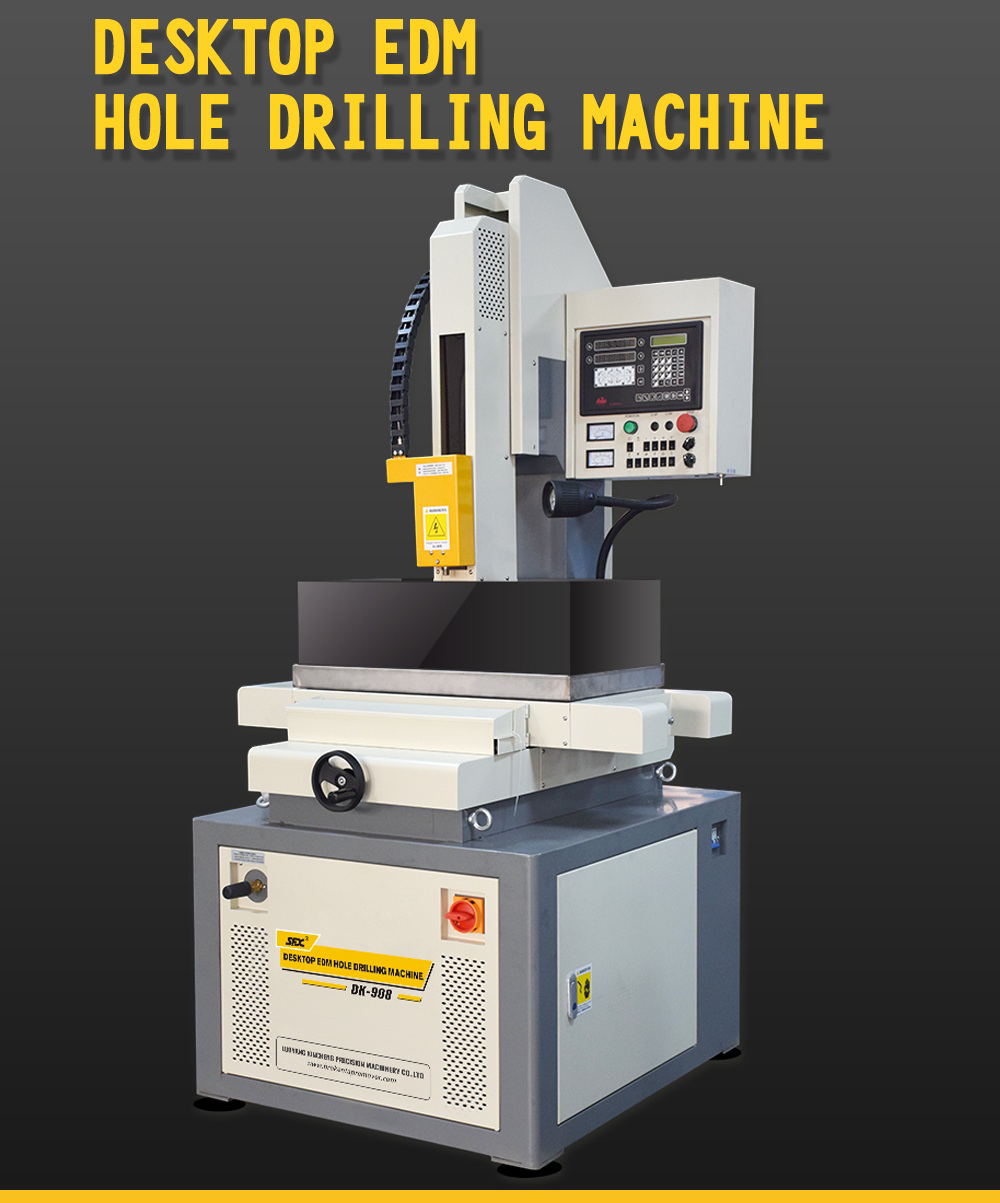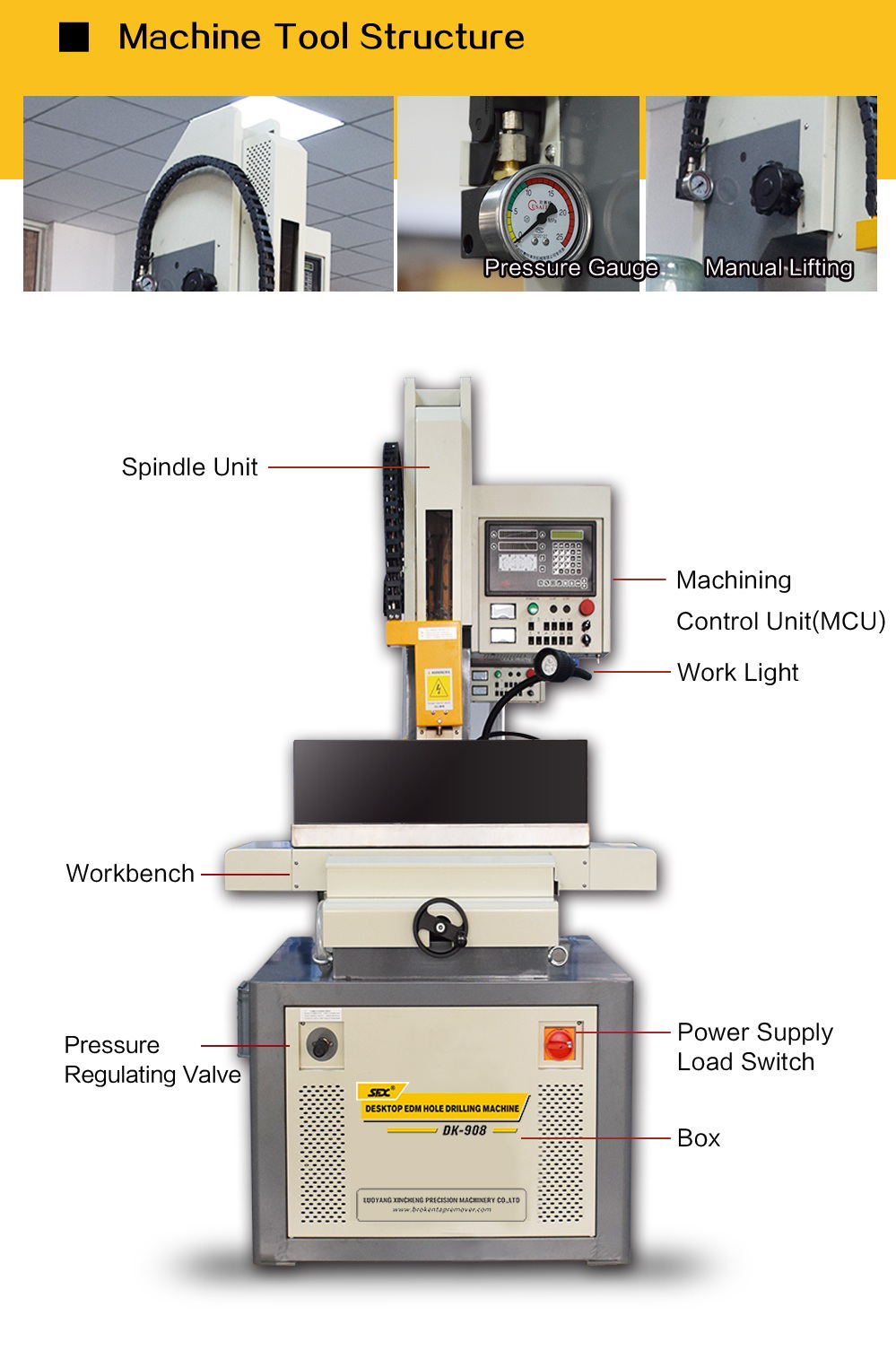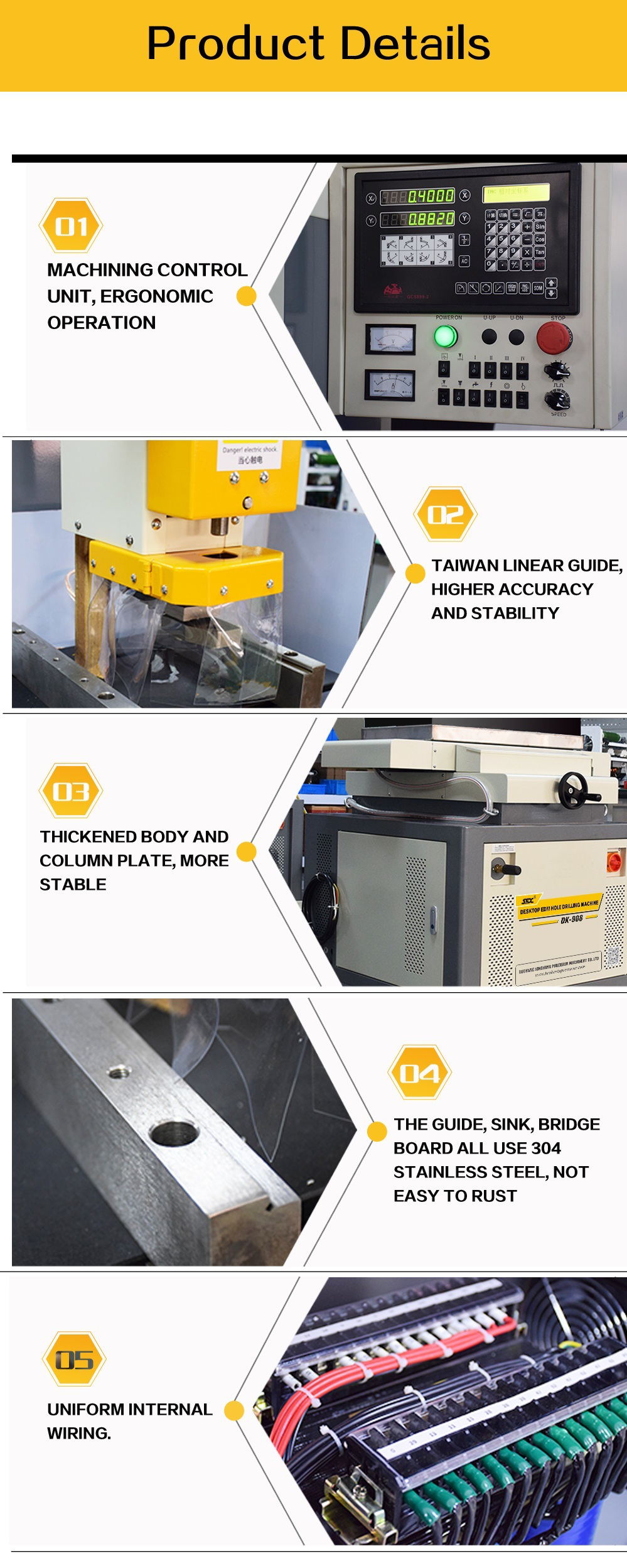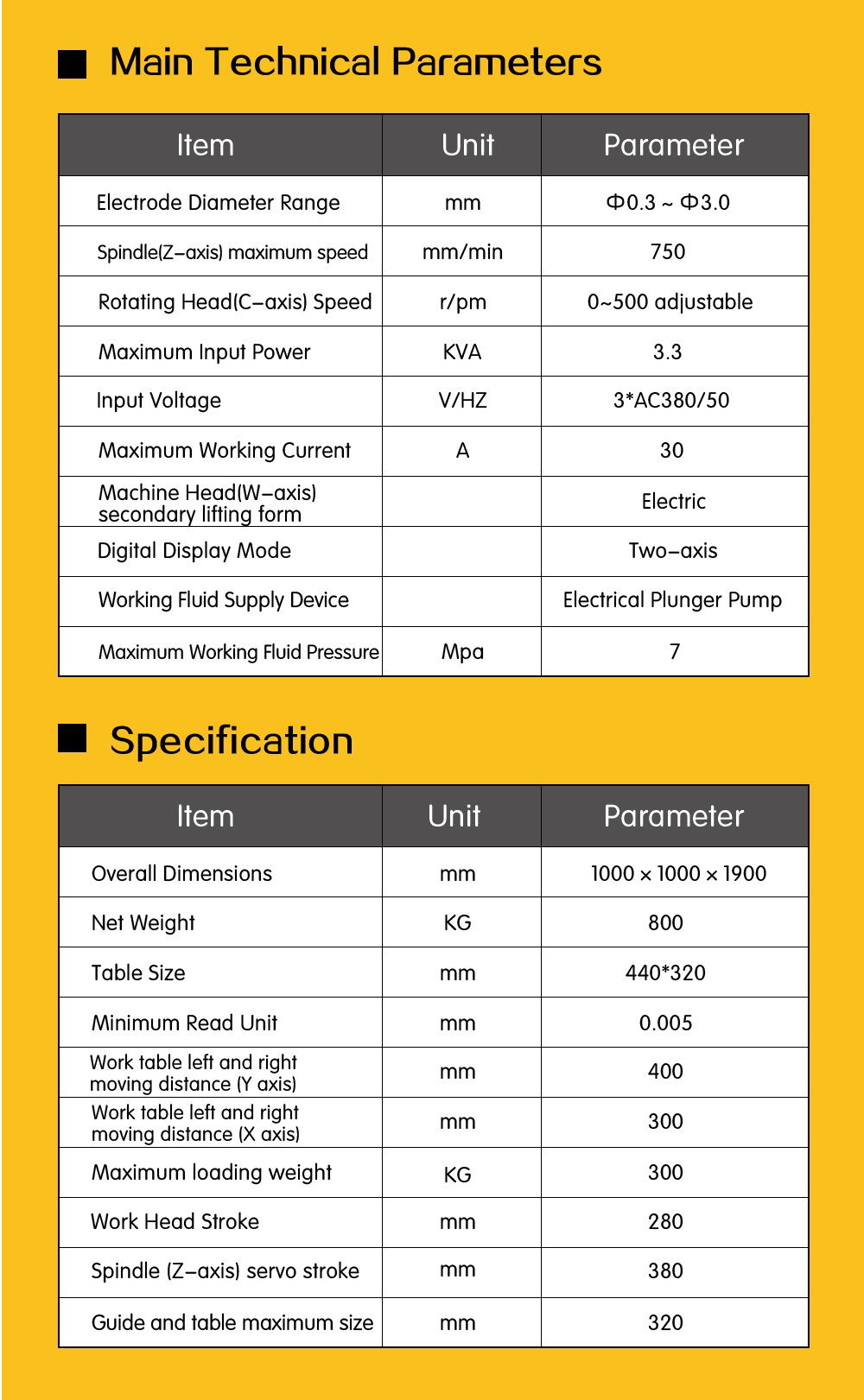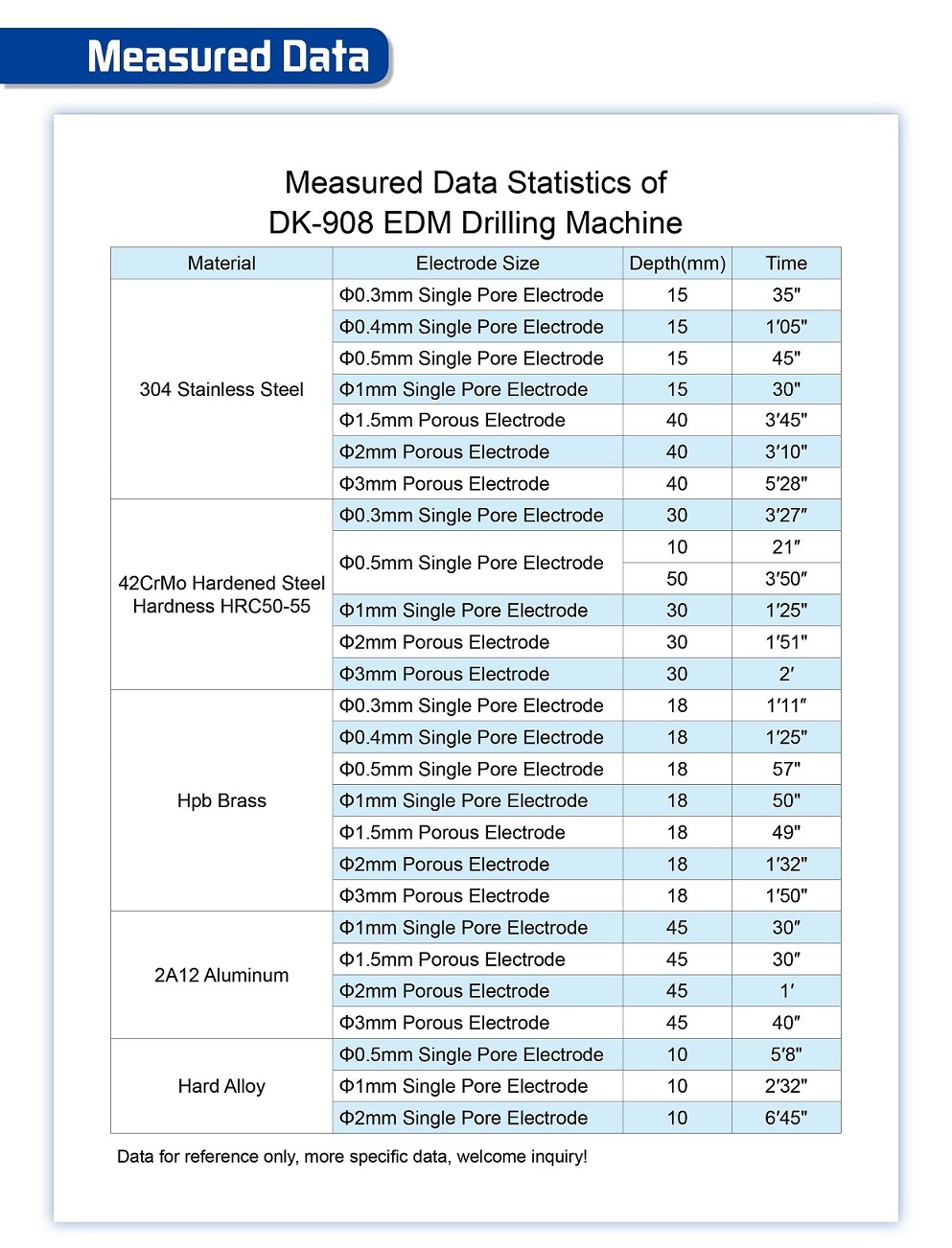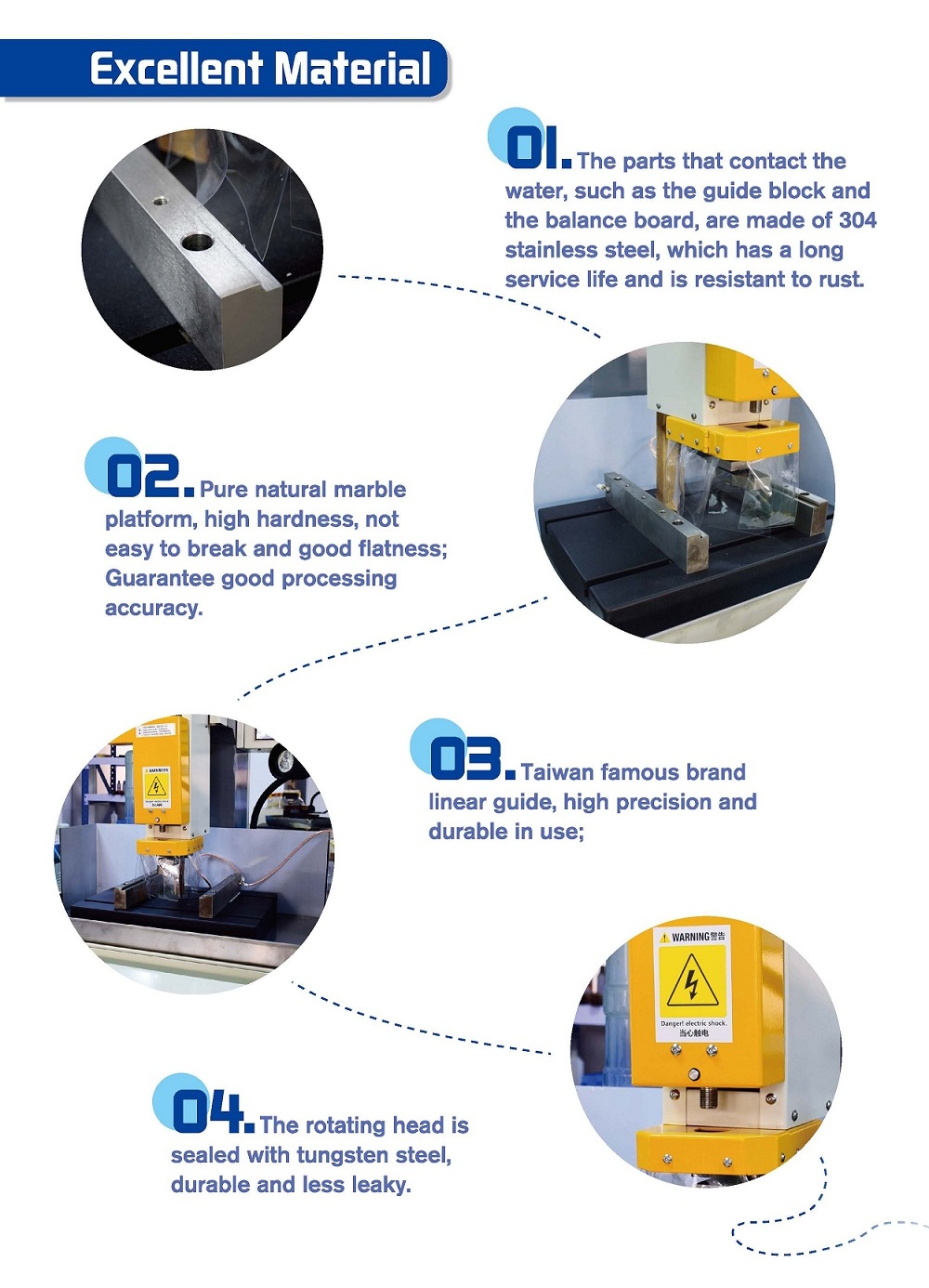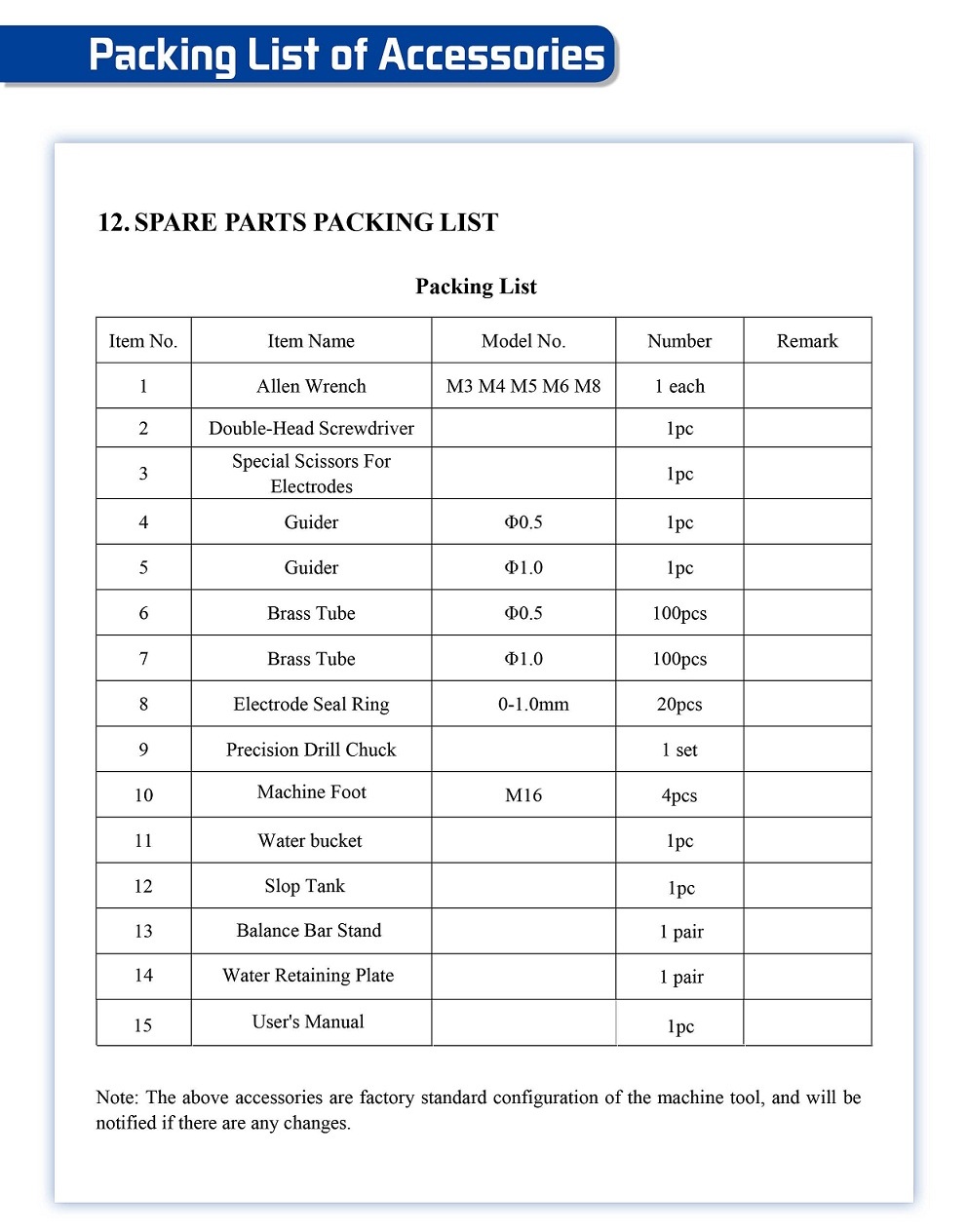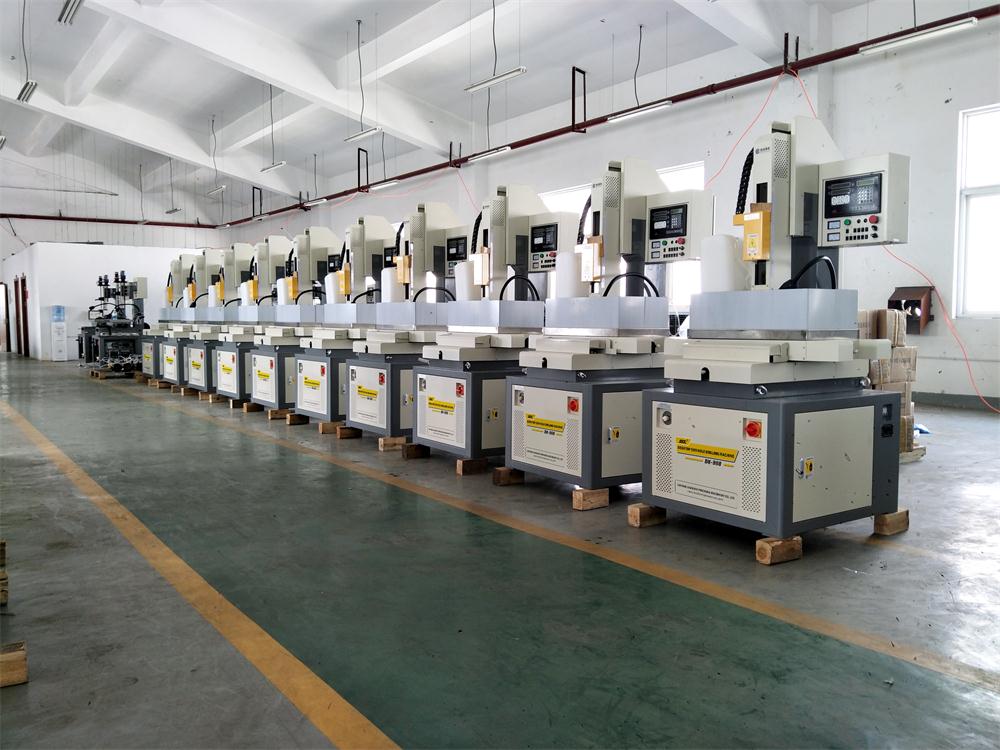 Machine Type:

Drilling EDM
Model:

DK-908D
X-Axis:

11.8 in
Y-Axis:

15.7 in
Z-Axis:

15in
Table Working Surface Length:

17.3in
Table Working Surface Width:

12.6in
Max Spindle Speed:

0-500RPM
Maximum Input Power:

3.3KVA
Working Fluid Supply Method:

Electircal Plunger Pump
Working Fluid Pressure:

7Mpa
Maximum Working Load:

300kg(661lbs)
Overall Dimension:

1000x1000x1900mm(39.37"x39.37"x75")
Net Weight:

800kg(1764lbs)
Electrode Diameter Range:

φ0.3-φ3mm
Maximum Spindle Speed:

750mm/min (30"/min)
Rotating Speed:

0-200RPM(Adjustable)
Max Distance from Guide to Working Table:

320mm(12.6'')
Maximum Working Current:

30A
Z Axis/Spindle Head Travel:

380mm(15'')
Minimun Read Unit:

0.005mm
Digital Display Mode:

Two-axis
nput Voltage:

3*AC380/50 V/HZ
Your cart is currently empty.