SFX
SFX 1500W Handheld Fiber Laser Cleaning Machine Rust Oil Painting Remover Machine 220V Single Phase MAX Laser Source
SFX 1500W Laser Cleaning Machine 220V Single Phase BLC-1500 Fiber Laser Rust Oil Painting Remover Machine
Upgraded ZBTK Brand Laser Gun Head with Auto Blowing Function!!
The SFX 1500W handheld fiber laser cleaning has numerous advantages. With its integrated design, portability, and lightweight construction, this laser cleaning machine is highly efficient in removing rust, oxide, paint, and oil from both metal and non-metallic surfaces without effort. The 1500W mobile laser cleaning machine offers flexibility and adjustable parameters, and it is versatile and finds application across various industrial cleaning scenarios. It is particularly suitable for mechanical processing, restoration of mechanical parts, mold cleaning, and repair work in automotive industries for cars and trucks, providing a powerful solution for surface treatment needs.
Specifics
Name: SFX 1500W Laser Cleaning Machine
Model: SFX-BLC-1500
Laser Power: 1500watt
Laser Source: Fiber Laser MAX, 1080nm Wavelength
Maximum Modulation Frequency: 20KHz
Laser Type: Continuous/Modulation
Delivery Cable Length: 10m (15m can be customized)
Max Scan Width: 160±10mm
Toal Power: 8KW
Cooling Method: Water Cooling (Medium: Deionized Water, Distilled Water or Purified Water)
Power Supply Voltage: 220V single-phase
Machine Dimension: 845*460*605mm
Water Tank Capacity: 16L (14-15L of Water to be Added)
Features:
Upgraded laser cleaning head----- Independent research and development, lightweight and easy to use. 400mm focal length, cleaning width up to 160mm. The laser cleaning machine has a short focus, large cleaning width, high tolerance, low light attenuation. Flexible and easy to clean on large irregular workpieces. The automatic blowing function prevents impurities from adhering to the lens and damaging the lens.

Wide material applicability----- flexible and efficient application in various industrial processing scenarios.

Integrated water-cooler chassis----- the volume of the 1500w laser cleaning machine is only 0.23m³, easy to put in a car.

Ergonomic design. easy to push------ Self-adaptive speed fan. Direct cooling and heat dissipation, high efficiency and energy saving.

English operation interface-----Parameters of the laser rust removal machines are intuitive and adjustable. Easy to operate.

Non-contact cleaning. No consumables. No damage. No chemical pollution.

10-meter brand optical fiber cable can realize long-distance operation, wide reachable distance, flexible and convenient operation.
Shipping & Warranty:
Free shipping by international express(UPS/DHL/Fedex) with door to door service, estimated time of arrival is about 4-7 working days. Duties are included for shipping to the US.

We provide one-year warranty for the whole BLC-1500 Fiber Laser Rust Oil Painting Remover Machine and a two-year warranty for the laser source. From the date of purchasing this product, our company provides a free warranty within one year. We repair the machine free of charge for life and you only need to bear the cost of spare parts and two-way shipping cost. USA After sales center is in Buffalo, NY.
Packing List:
1 set x SFX 1500W Laser Cleaning Machine

1 pair x Goggles
1 pair x Gloves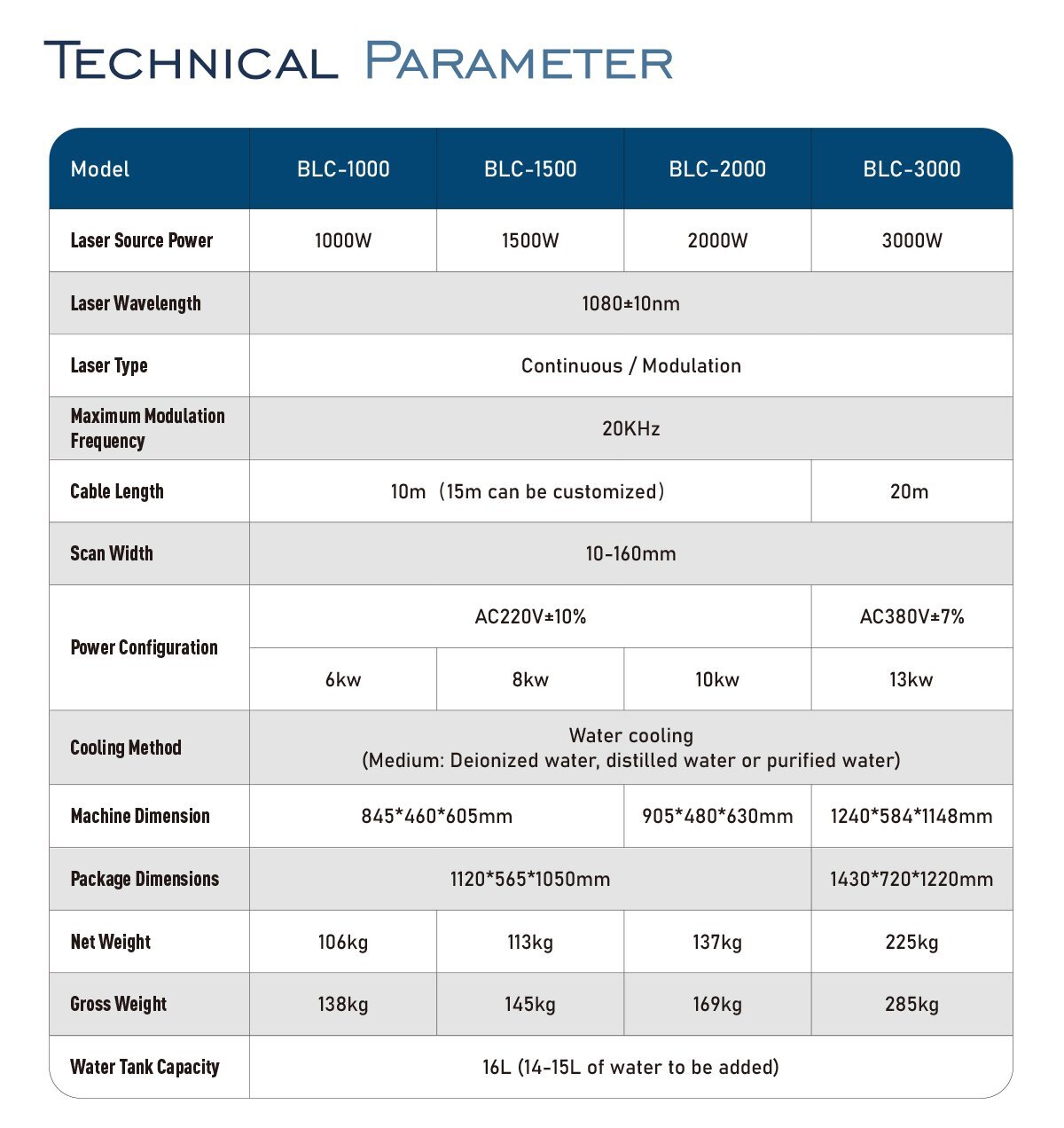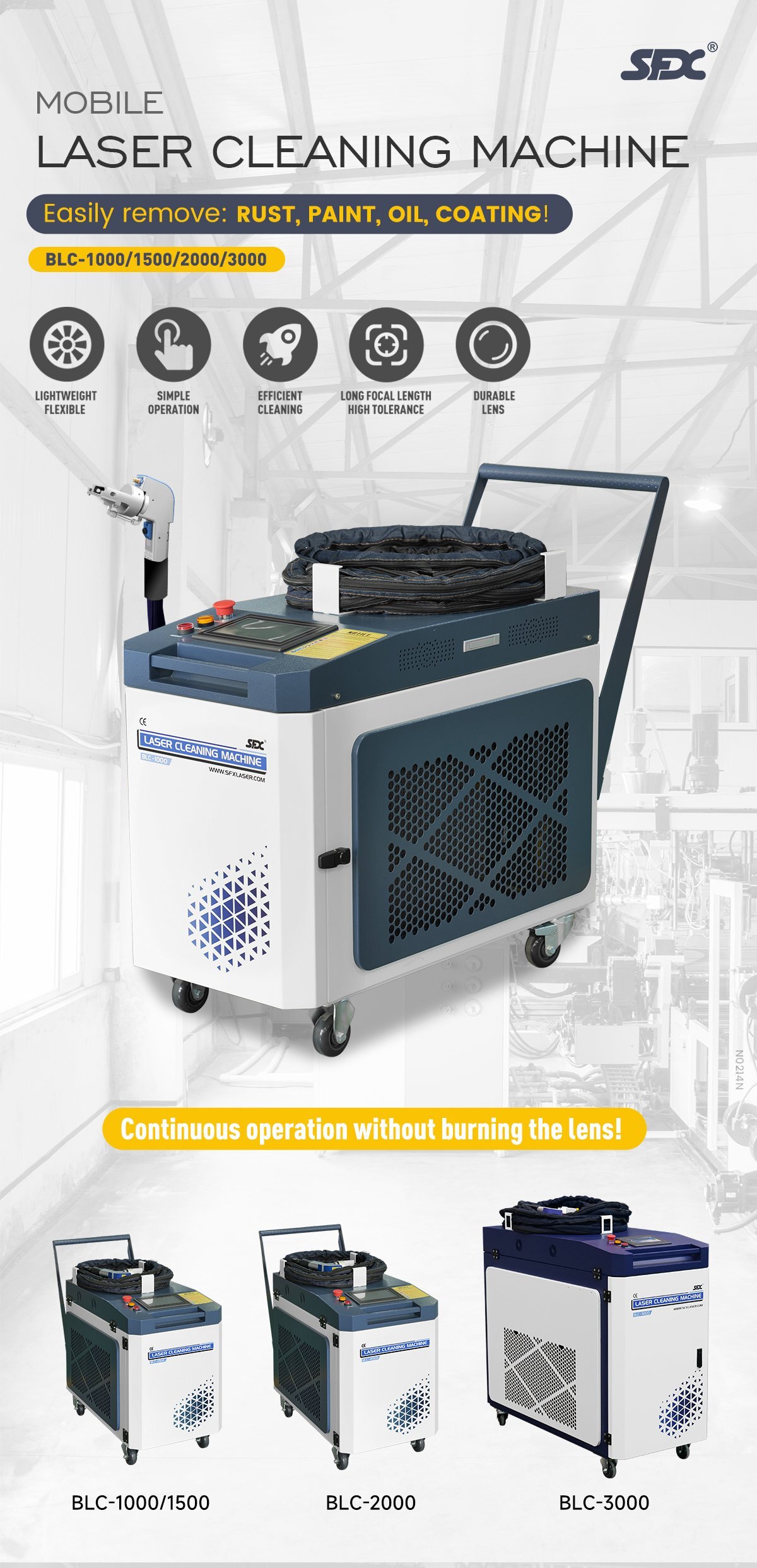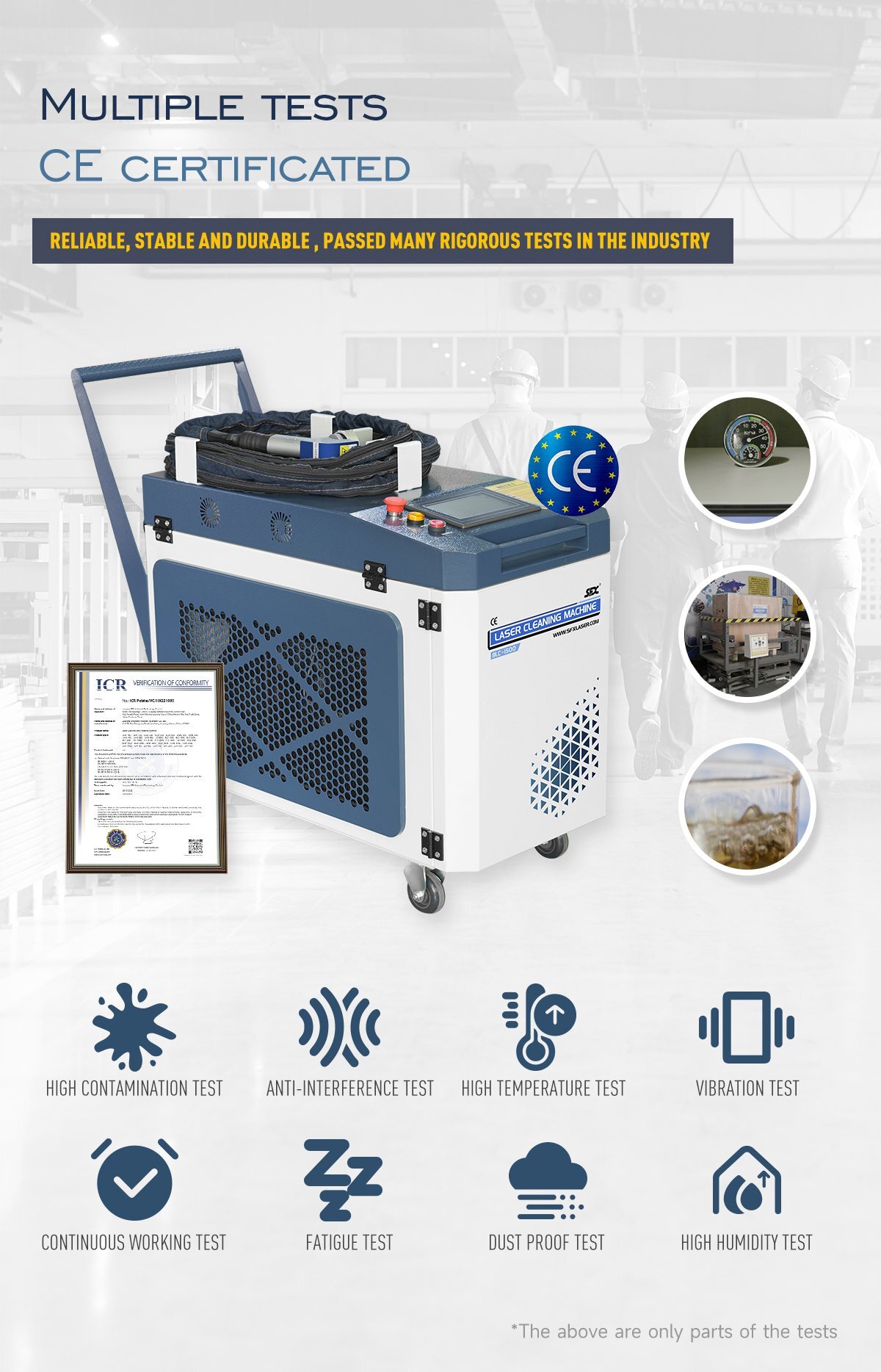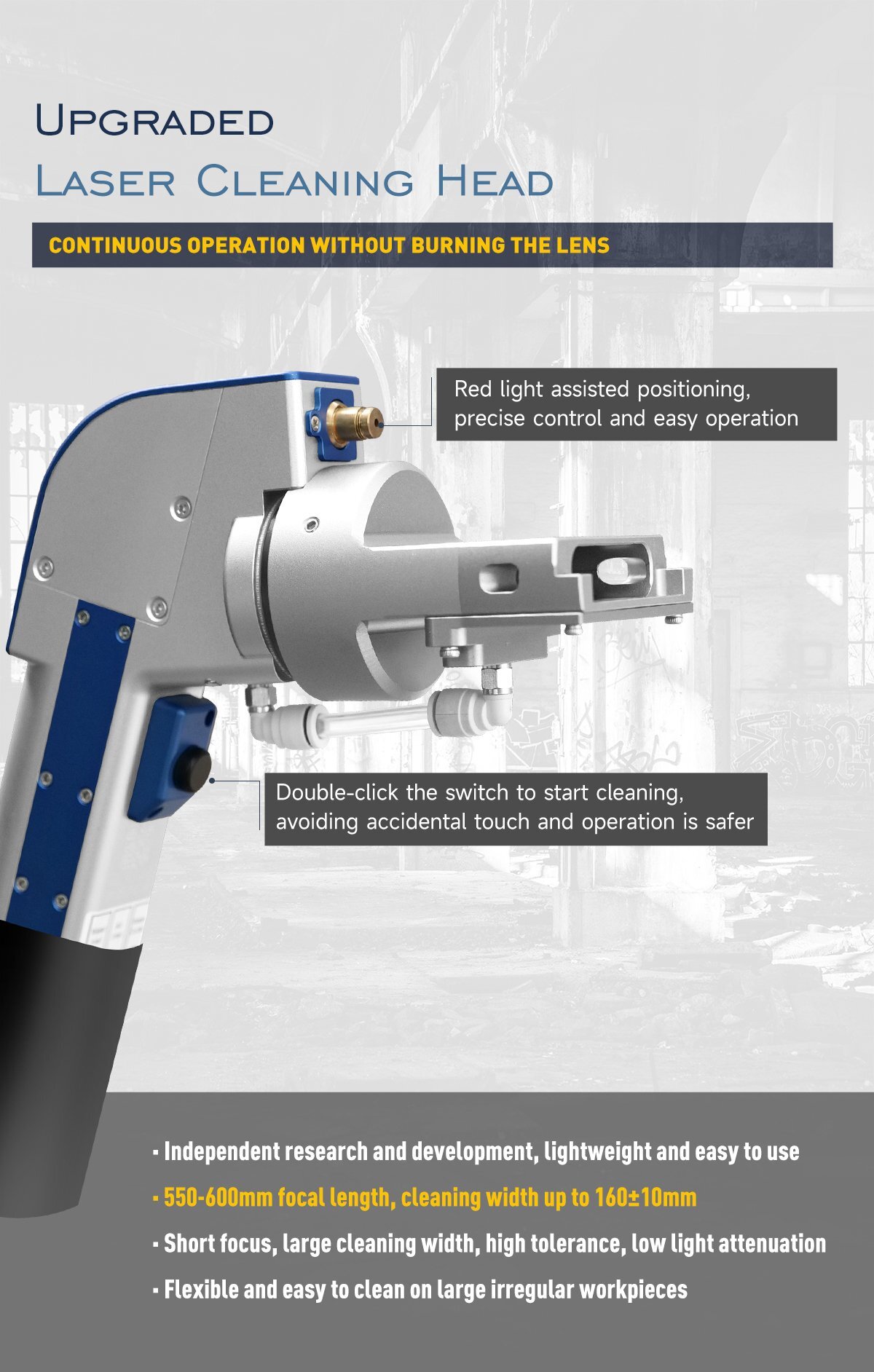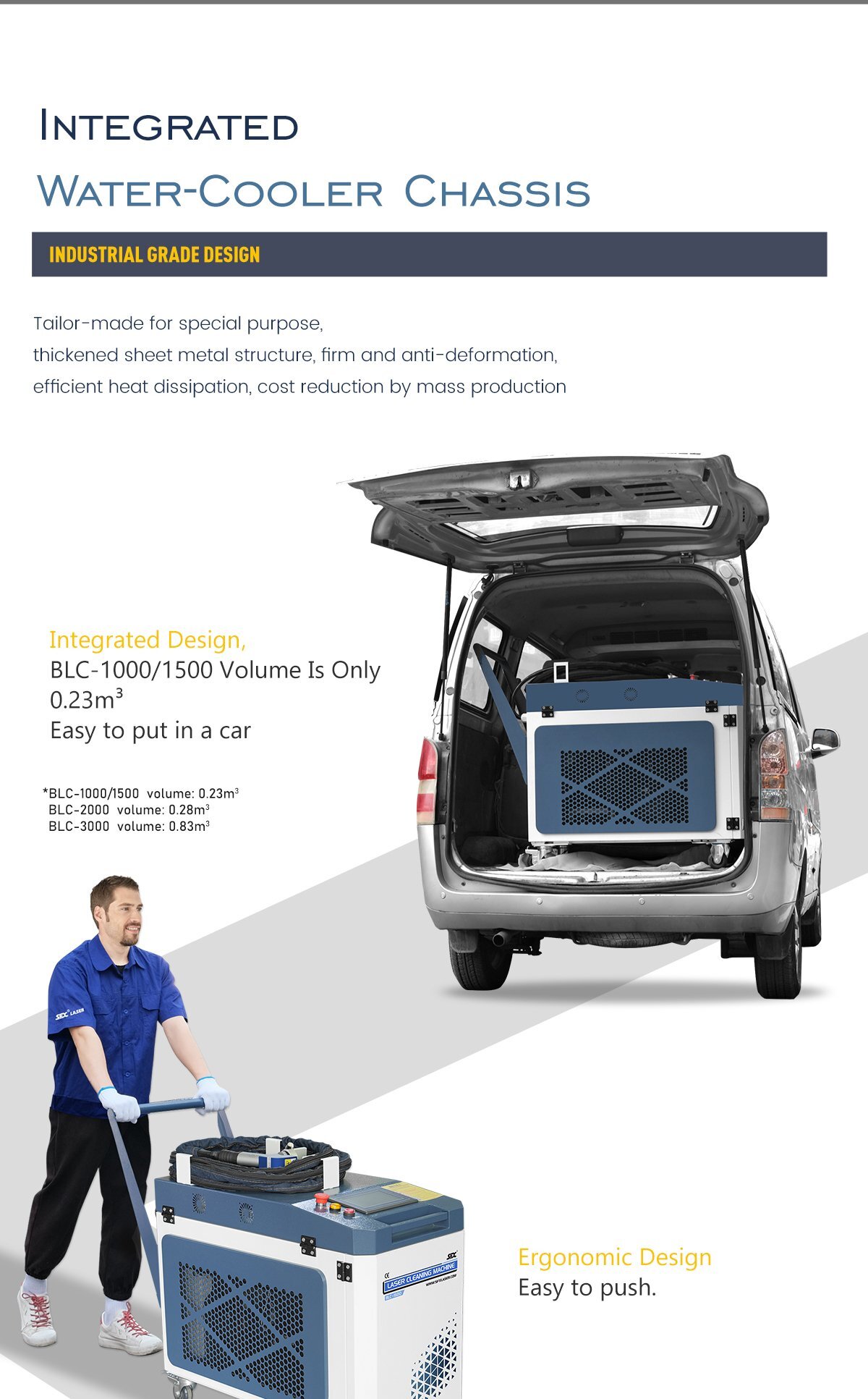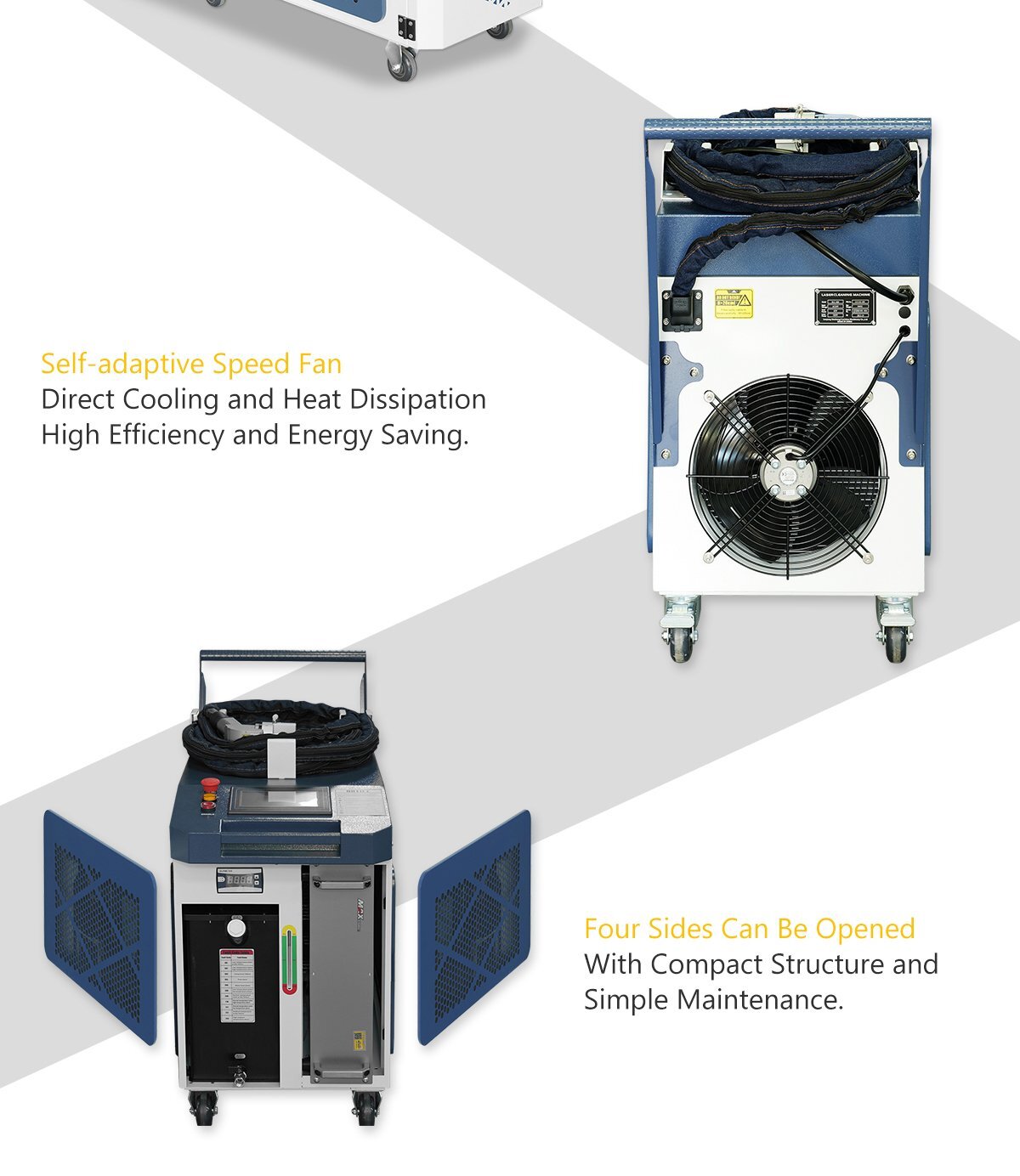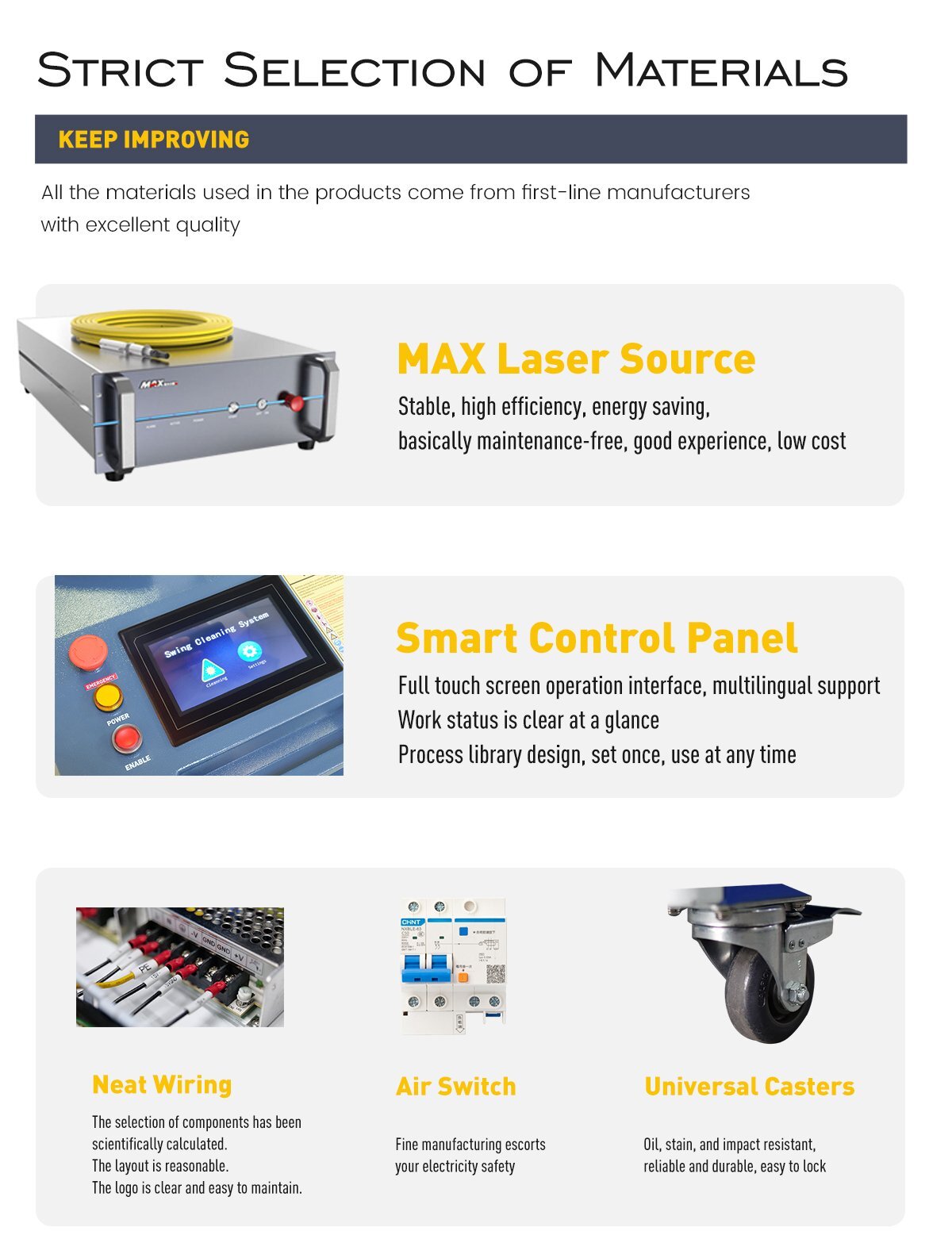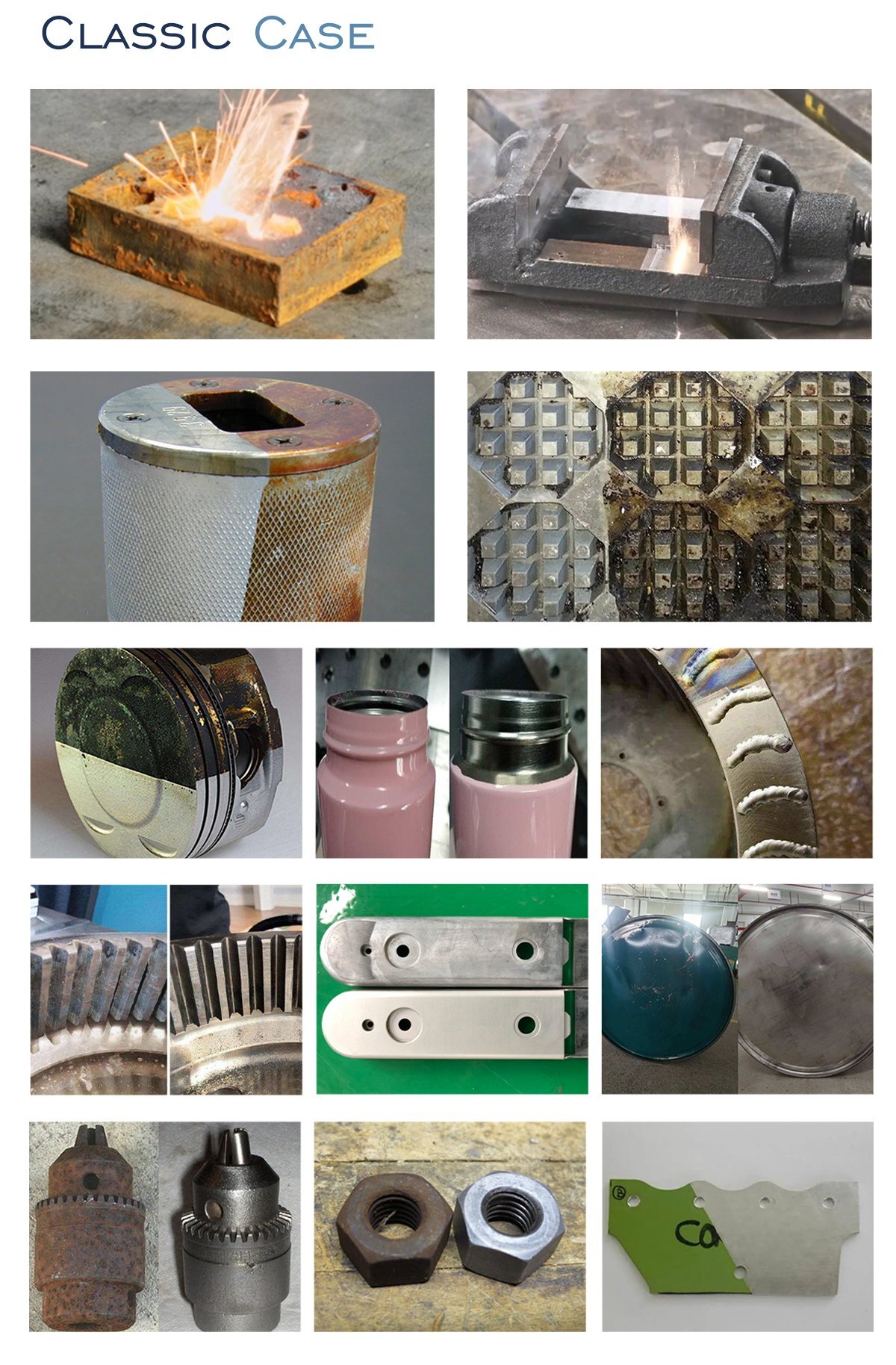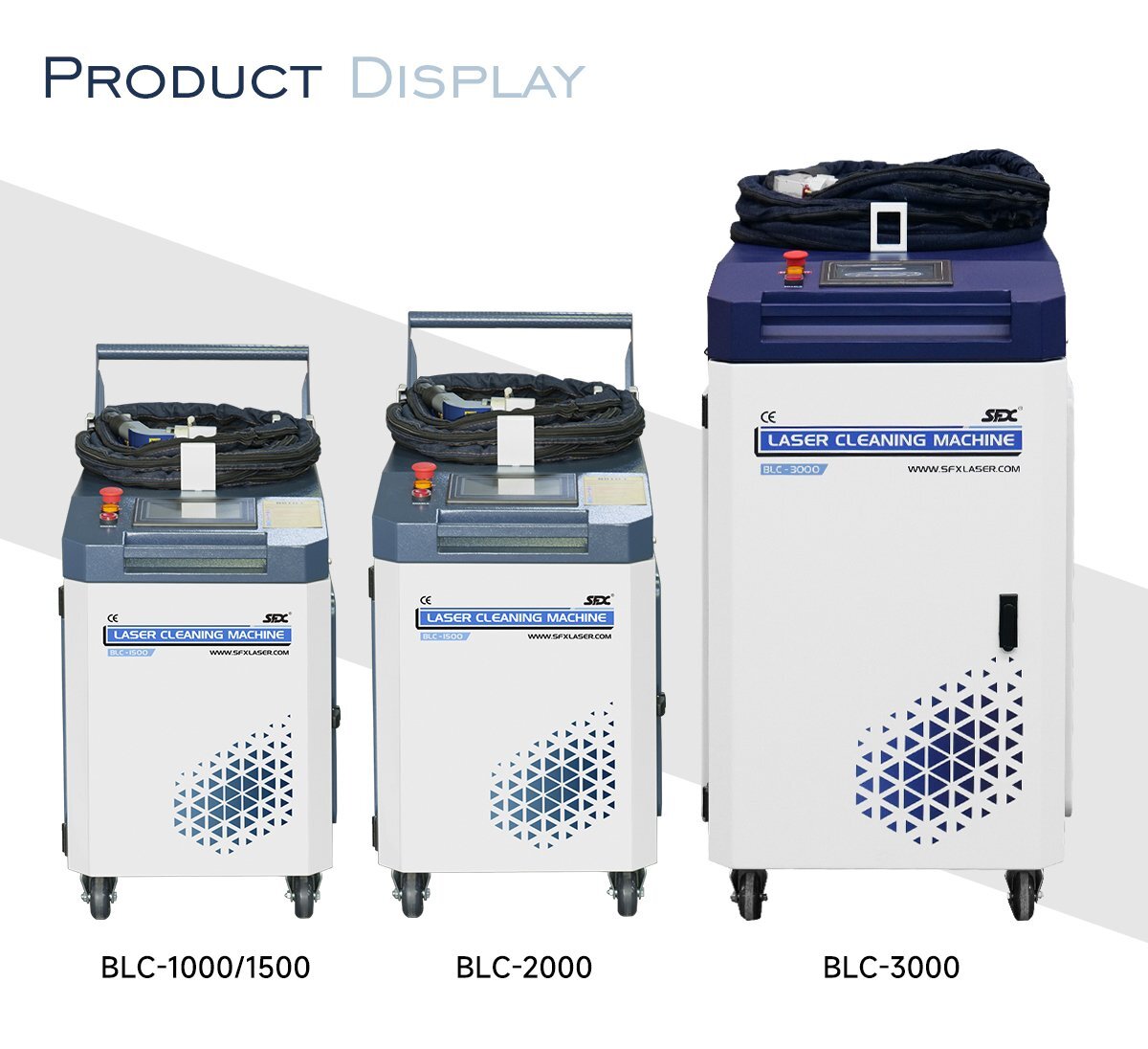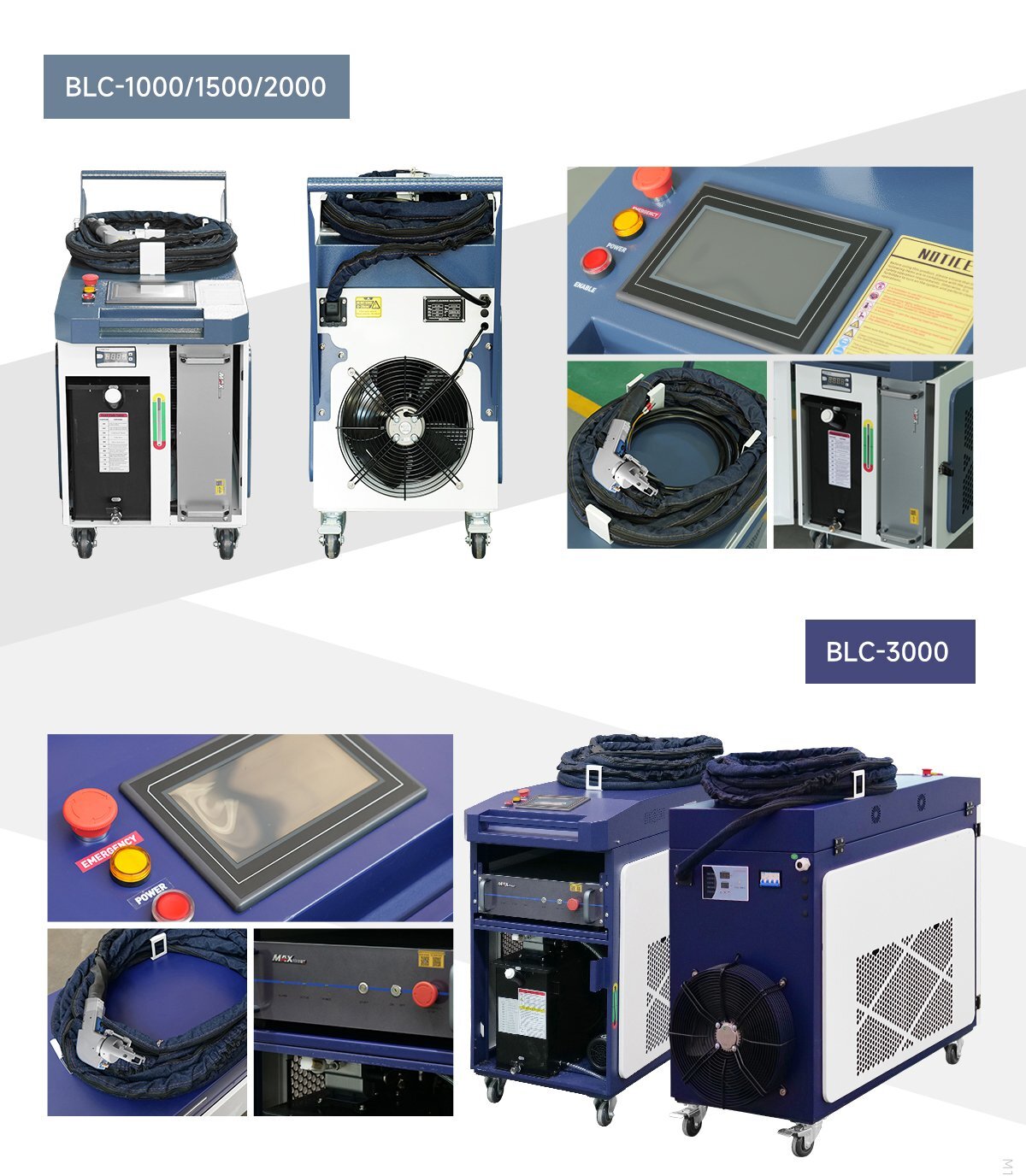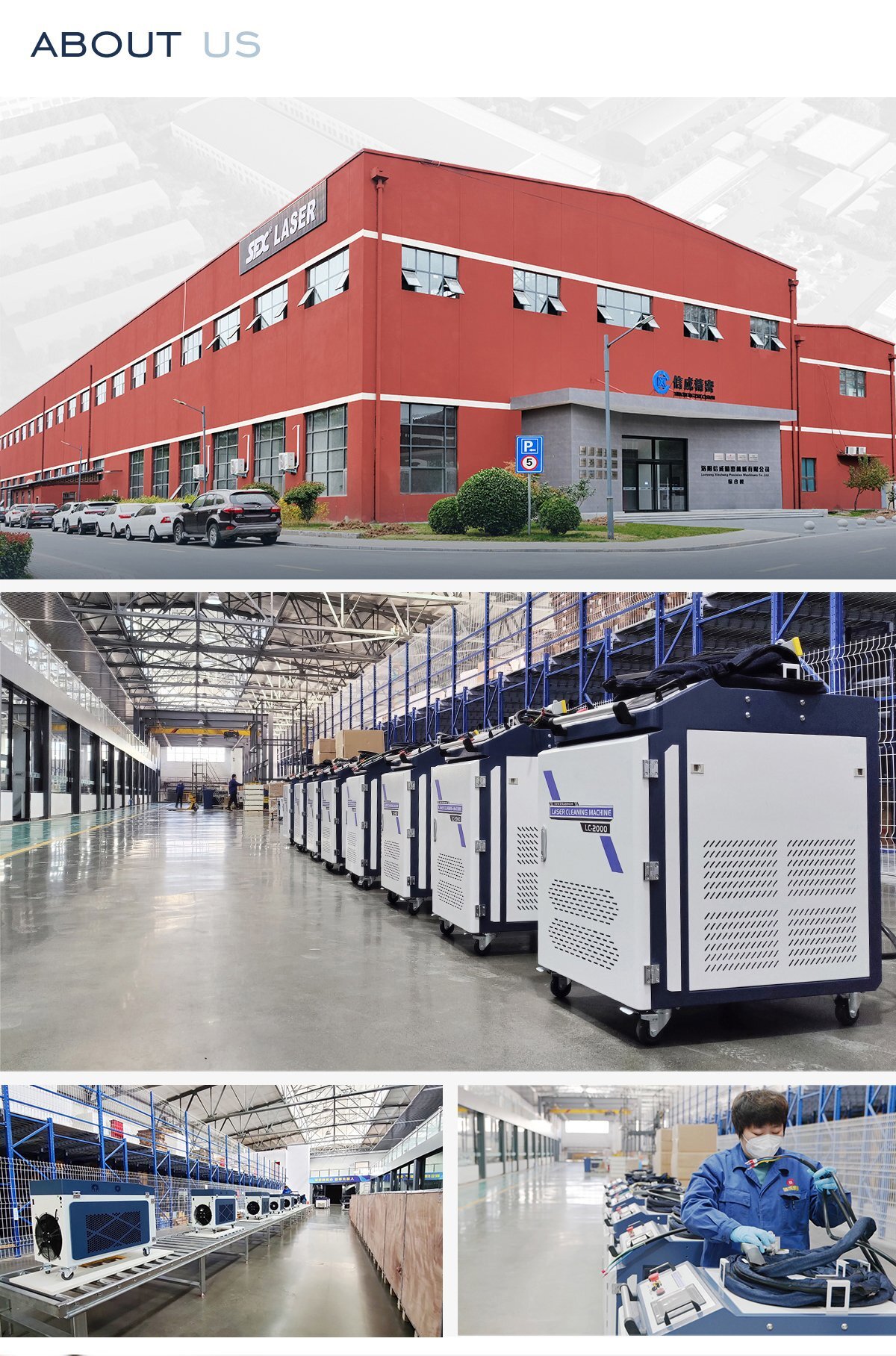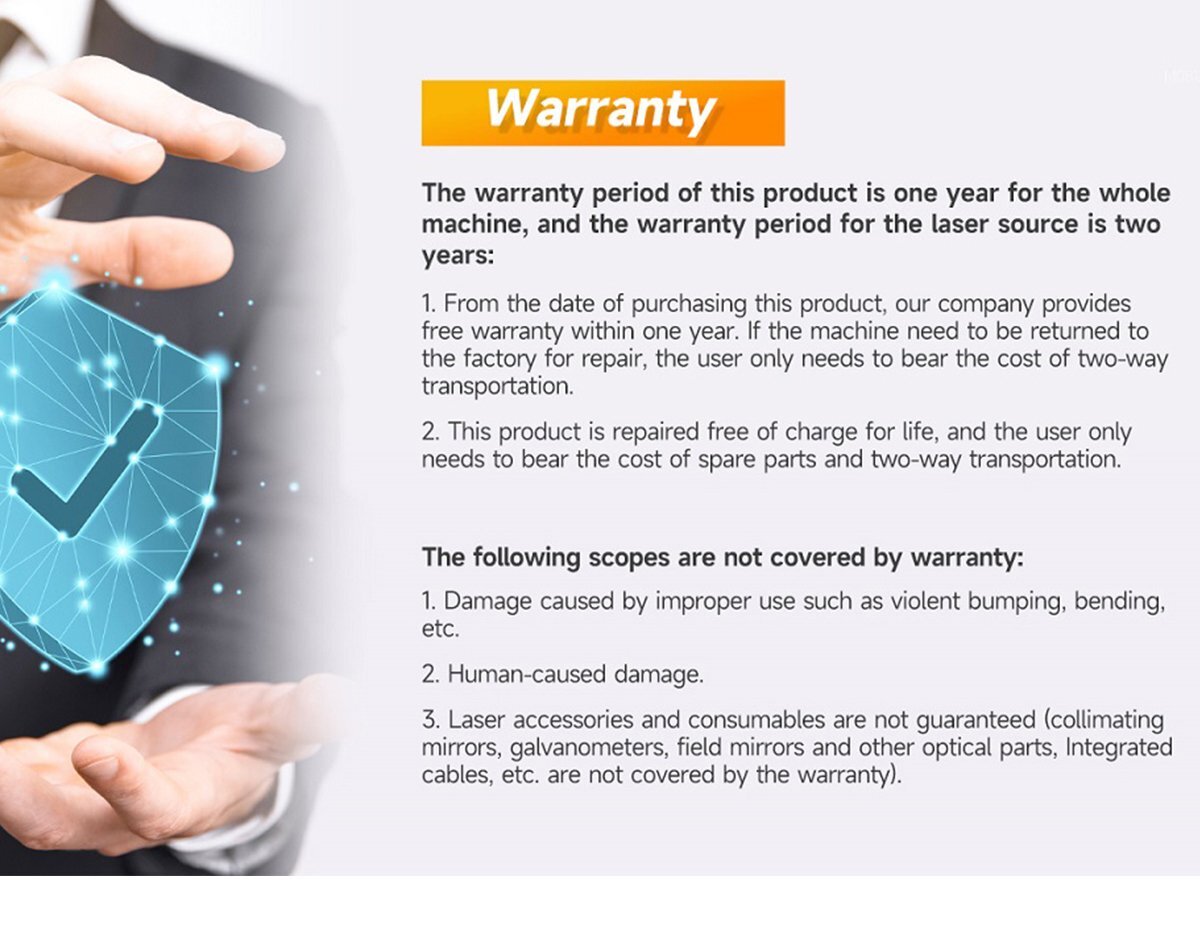 Name:

Integrated Laser Cleaning Machine
Laser Power:

1500W
Cable Length:

10 meter (15m can be customized)
Laser Source:

MAX Fiber Laser, 1080nm
Package Dimension:

1120*565*1050mm
Laser Type:

Continuous/Modulation
Toal Power:

8KW
Scanning Width:

160±10mm
Cooling Method:

Water Cooling
Brand:

SFX
Water Tank Capacity:

16L (14-15L of Water to be Added)
By
Mike
Monday, 24 April 2023
Just received my BLC-1500 and it is impressive! The quality is excellent, and it has enough power to blast off anything on metal! I would highly recommend this machine if you are tired of using a grinder and tired of not being able to reach tight areas on a component or just make a 6-hour job into 5 minutes. I can't wait to see what we can do with this laser!
Your cart is currently empty.